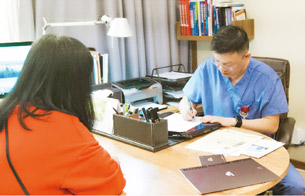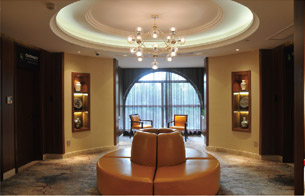 13000平米的Macare大楼,为您打造专属空间。舒适宽敞的门诊及等候室、专业严谨的手术室、极具人性化的家庭化套房,让您感受在家的安全、舒适与放松。
一楼的咖啡吧,让您感受时光的不紧不慢。静谧的祷告室,让您感受内心的力量加持。五星级大厨掌勺的阳光餐厅,让您静享阳光与美食。
就诊时,客人会在诊室门口看到一个状态标识牌,说明这间诊室目前的就诊状态,从而避免了其他人员有意或无意地进入。这样一个又一个细节中,Macare给您带来最私密、贴心的服务。
如果觉得劳累,您可以在沙发上休息,或是翻看身边的书籍杂志。总之,这里从环境到设施,从人员到服务,处处体现了对细节服务的极致追求。同时,我们也十分注重对客人隐私权的保护,有关客人的任何信息和隐私我们都会严格保密。
In the 13,000-square-meter Macare building, we create private spaces for each of you. The roomy clinic and comfortable waiting room, professional operating rooms, and humanized family suits grant you the feeling of safety, comfort and relaxation.
Sitting in the café on the first floor, you can feel the time continuing its pace. Enjoying the peace of heart in the prayer room, the tough inner strength will be your possession. Having meals in the penthouse where a five-star chef dedicatedly cook for you, you can easily consume the sunbath and delicacy.
You can see there is a status sign at the door of every clinic, to indicate the current state of the clinic,thus to avoid other people entering the clinic intentionally or unintentionally.Because of paying attention to every detail, Macare can bring you the most intimate and thoughtful service.
When you feel tired, you can rest on the coffee bar or read the books and magazines around you.In short, from the environment to the facilities,from personnel to services,everywhere in Macare can make you enjoy the warmth and consideration. Besides,Any information or privacy of the patients will be strictly confidential.